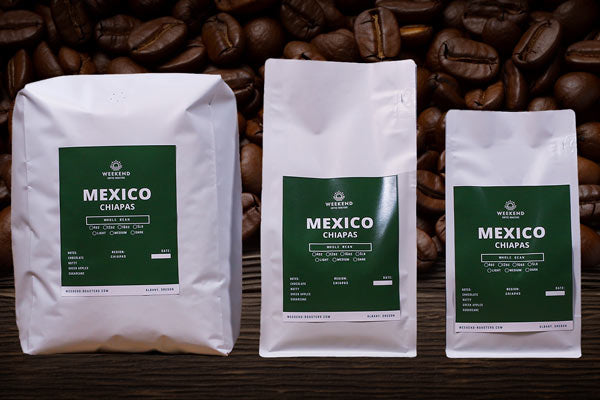 Mexican coffees are extremely popular due to their subtle flavors and range of body. Coffee is primarily grown in the southern-most state of Chiapas, where tropical conditions, higher altitudes, and volcanic soils create ideal growing conditions This coffee has large beans, is high grown, and comes from multiple farms in the region of Chiapas.
Most of the area's coffee producers are smaller farms and owned by families of indigenous descent. The beans are European Prepared (EP) to ensure minimal defects and are wet processed, meaning the skin /pulp of the cherry is removed from the beans after harvesting. The Turquesa has chocolate and hazelnut tones and works well as a single origin and for espresso drinks.

REGION: Chiapas
ALTITUDE: 900 – 1,100 m
VARIEITIES: Bourbon, Caturra, Catuai, Typica
PROCESSING: Washed and patio dried
VARIETIES: Bourbon, caturra, typica, catuai
Q-GRADE: 83 Points
CUP: Mild Acidity, medium body
FLAVOR: Chocolate, nutty, green apples, sugarcane
Choose your roast and grind preference when you order.